SEND
SEND Support at Thorpedene While We Are Closed
We understand this is an unprecedented and worrying time for everyone. If you have a child with Special Educational Needs (SEN) some of these anxieties could be more exacerbated. At Thorpedene Primary School, you are never alone. We have put together some advice and resources to help you at home.
As always, please contact the school should you need any further advice or support.
Our SENCo is Mrs Harvey.
Please find the addendum to our SEN Information report here
SEN Information Report 2019 -20 Addendum
Here are some generic resources to help you:
Managing routines at home:
https://educationendowmentfoundation.org.uk/support-resources-to-share-with-parents/
BBC Parent SEN Toolkit:
https://www.bbc.co.uk/bitesize/articles/zh9v382
Advice from the Department for Education for parents of children with SEN:
https://www.gov.uk/guidance/help-children-with-send-continue-their-education-during-coronavirus-covid-19
There are lots of online resources available for all children, however these ones maybe particularly useful for children with SEN:
PHONICS AND SPELLING SUPPORT
Please follow the link below to the Ruth Miskin website – during the closure period they are playing daily phonic and spelling sessions. Ruth Miskin produces a series of letter formation rhymes the children use at school to help their letter formation.
https://www.ruthmiskin.com/en/find-out-more/parents/
OAK NATIONAL ACADEMY – ONLINE LESSONS FOR YEAR R TO YEAR 10
The government have rolled out a national online academy lesson service so that pupils can access lessons online. You can select by year group or by subject. They are also in process in offering specific support for SEN children.
https://www.thenational.academy/online-classroom
BBC BITESIZE LESSONS
The BBC have released a range of lessons and games to support children from Reception through to Year 10. You can access any lesson you feel is appropriate to your child.
https://www.bbc.co.uk/bitesize
Here are links to the documents the school to teach the reading and spelling of these word lists. If your child has an Individual Support Plan (ISP), there maybe targets relating to a specific number of these words, here is the full list so you are able to see how the target links in with the rest of the words. Should you child meet their target, you can see the next group of words they need to work on.
Common exception words (CEW)
There are a number of resources that have been sourced by the Educational Psychologist Service. They are offering a series of live webinar talks each day, and their videos can be found on their Youtube channel for viewing after.
They have also increased the hours of their EPConnect helpline service for parents should they need support.
Supporting your child with SEN at home;
General advice about your child's ISP
General Advice about EHCP's & annual reviews
Southend Local Authority have produced a parent information pack specifically for parents of children with SEN in Southend. Please click on the link below:
SEND Support at Thorpedene
At Thorpedene, there is a range of staff to support all children, including those with additional needs. These staff include the Inclusion Manager (a qualified SENCo), the school SENCo, Class Teachers, LSA's and Learning Mentors.
If you have any concerns or queries regarding your child, please talk to the class teacher in the first instance (Following the schools 'Who to talk to if you have a concern' flow chart) or alternatively contact the office and request a conversation with Mrs K. Harvey, (SEND Teacher).
Click here for SEND Information Report 2019-20
If you would like any further information on the admission of pupils with Special Educational Needs or Disabilities, please either see our Local Offer Page for details or see the below policies:
SEND Profile
111 children are currently on Thorpedene's SEND register
This is approx 21% of the whole school roll.
There are currently 7 Education and Health Care Plans (EHCP) in the school and 104 children on SEN Support.
The category with the highest need is Communication and Interaction, Speech and language issues form the majority of this, with social communication difficulties being the other needs.
The second highest area of need is Cognition and Learning.
Specialist expertise from outside agencies included: The Educational Psychologist service, paediatricians at the Lighthouse Centre, Speech and Language Therapists, Behaviour Support provided by PLT, EWMHS (Emotional Wellbeing & Mental Health Service), Physiotherapists and Occupational Therapists.
Key Information:
As of September 1st 2014, a revised SEN code of practice was introduced.
The changes made ensure that the provision of support is now more effective and gives all children the best possible life chances.
With high class, quality-first teaching that our school provides and focused interventions, the support that can be provided in class and through general teaching to ensure progress for all pupils.
SEND support allows additional provision to those children who have 'significantly greater difficulty in learning that the majority of others of the same age'.
Those who need to 'catch up' in some areas will be supported in class and will not necessarily need an ISP (individual support plan)
Pupils who have been identified with additional needs are recorded on the SEN register. They may receive support through an ISP (Individual Support Plan). These plans are written by the class teacher, and monitored by the SENCO/Inclusion Manager. These plans are reviewed half-termly and updated termly and are shared with parents. These meetings afford parents and pupils to voice their opinions and discuss progress made. For children with greater needs/EHCP the SENCO will also be present at the meetings.
Support at Thorpedene is available in a variety of ways dependent on the individual needs of pupils. Quality First Teaching ensures all pupils receive appropriate, differentiated teaching and support in every classroom. In addition to this, LSA's provide in class and out of class support, by working 1:1, 2:1 or with small groups targeting support and teaching to identified needs.
The school Learning Mentors offer a range of experience and qualifications to support pupils with any social and emotional needs, working both 1:1 and leading focus groups to develop and support those with barriers to learning or needs that affect their ability to engage in class learning opportunities. The school also provides trained counsellors when needed for pupils with a particular need or barrier.
Thorpedene is an inclusive school; always working to develop and further strengthen the offer provided to all pupils and always striving to ensure that all pupils, whatever additional need or disability they may have can be fully included in all aspects of school life. This often includes creative thinking or 'thinking outside the box' to ensure that all pupils have access to and can develop from a broad and balanced curriculum with opportunities to learn in class, out of class, outside, in year groups, classes, phases and as a whole school.
Children with SEN are enabled to engage in activities available to other children in the school who do not have SEN via a variety of means: differentiated activities, adult or peer support, physical adaption of learning environments and resources.
The school has strong links with local pre-schools and secondary schools to ensure smooth transitions for all pupils. For pupils identified with additional needs extra transition processes are put in place to support with moving between phases of education.
Areas of Need that Thorpedene Supports:
Communication and Interaction support
Children at Thorpedene often come into Reception with a low baseline for speech and language. In order to provide early intervention support staff work with Reception and Year 1 children, to provide early help to close the gap before starting KS1. There is also a social interaction and conversation group (Time to Talk) run by LSAs.
We have a number of LSAs who specialise in different areas of support – including Speech & Language, that ensure the best provision is offered to all our pupils.
In KS2, children have ISP time to support programmes prescribed by external Speech and Language Therapists. There is close collaboration with Speech Therapists assigned to support schools in the local area.
Class teachers and the SEN team work together to identify any specific speech needs and difficulties, then they plan in school support or contact parents and make referrals to external agencies if needed.
Cognition and Learning
Some children in Primary Schools display traits of dyslexia-type needs. A variety of methods are used to support these pupils, including coloured paper, coloured overlays, differentiated methods of teaching and support and an intervention called the 5 Minute Box.
LSAs receive training on how to use these boxes to ensure they have the appropriate impact.
We also use the 5 Minute Maths Box to support children with traits of dyscalculia.
To support dyspraxia, fine motor skills groups (Finger Gym) and handwriting interventions are run by LSAs and gross motor skills groups (Smart Moves) is run by the schools Sports Coach.
ISP time is given at least twice a week to children on the SEN register with cognition and learning needs. The ISPs are written by class teachers (and monitored by the SENCo) and are personal to the needs of each child.
Social, Emotional and Mental Health
As well as using in-house support from Learning Mentors to support with social interaction difficulties, anxiety, anger management issues, self-esteem issues and boundaries and personal safety, the school is also well supported by external agencies and outreach services.
Since CAMHS has been rebranded as Emotional Well Being and Mental Health Services (EWMHS) there has been an increase in successful referrals and an improved effectiveness in the support the school and individual pupils receive.
Sensory and Physical
For any pupils with sensory or physical needs, full risk assessments are undertaken and individual plans written to ensure all pupils needs are met. For example, there has been adaption of classrooms (in class layout and ramps added for outside access). In order to do this with the greatest effect, the school works in close contact with Physiotherapy Departments and hearing specialists to support progress.
The school has access to a School Nurse, who can advise or a range of issues (for example: sleep, diet, hearing/sight concerns, anxiety), good links with Speech and Language Support, Early Help (Local Authority Support Service) and Emotional Well-being and Mental Health Services (EWMHS) and access to other volunteering services.
Identification of SEND:
The identification ladder (below) shows the clear progression in how children will be reviewed and assessed for need to ensure support is put in place at the appropriate levels, for children both with and without SEND.
Class teachers assess all children regularly using a variety of summative and formative assessment. These regular assessments afford chances to raise concerns regarding pupils (following the identification flowchart).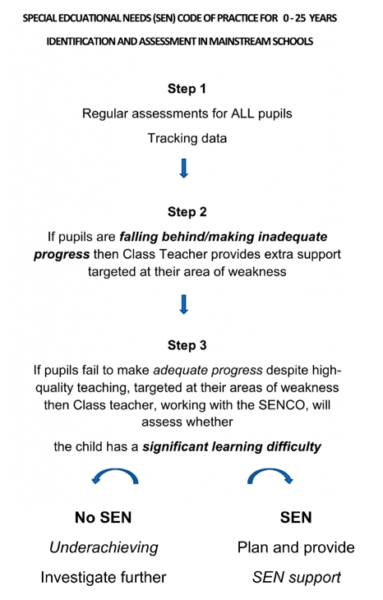 At all stages of SEND assessment and support, parents/carers are kept fully informed. Thorpedene believes it is vital to have parent input and ensure the whole child is supported, beyond just SEND needs.
Effectiveness of provision for SEN is evaluated during termly data drops by the Inclusion Manager and by monitoring of the ISPs by Inclusion Manager/SENCO.