SECAT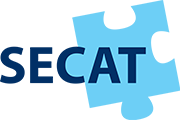 Thorpedene Primary School and Nursery is part of SECAT (Southend East Community Academy Trust)
The MAT is made up of five primary schools and one secondary school, all based in the Shoeburyness area.
SECAT has its own Board of Trustees and each school has its own Local Governing Body (Academy Committee) which is accountable to the Trust Board.
Our Vision is to become the most outstanding Educational partnership nationally.
Our Mission is to achieve outstanding outcomes for the young people in our community by providing an engaging, challenging and linear learning experience from 3 – 18 that equips them to live happy and success lives.
To find out more about SECAT you can use the SECAT link at the top of the page
Alternatively, If you wish to find out more about the work of the Trust please contact:
Mr Ben Stickley, Chief Executive Officer, or
Karen Dovaston, Chair of the SECAT Trust Board,
SECAT House, Delaware Road, Shoeburyness, SS3 9NP
Or by email: admin@secat.co.uk