Join Ant & Dec At Our Assembly – NSPCC Learnin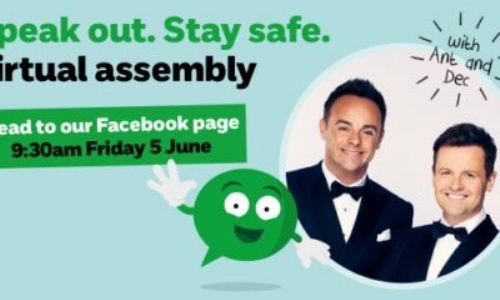 Primary school children across the UK can join Ant and Dec, David Walliams, and Sally from our Schools Service for a special assembly in partnership with the Department for Education. Featuring highlights from our hugely popular Speak out Stay safe programme, the assembly will help children understand what's going on, why they may be feeling anxious or worried, and where to get help if they need it.
We know that many children are struggling with increased anxiety because of the coronavirus pandemic – whether they're missing friends, stressed about schoolwork or concerned about their family's safety. And for parents and carers, it can be tough to start a conversation about these worries. Our assembly will help children understand the huge changes in their lives. There will even be a Q&A with Vicky Ford MP, Minister for Children and Families, featuring questions from children.
We would love all children, including those returning to school settings and those remaining at home to join us. Visit our NSPCC Facebook page to watch the assembly and share with your class.