Calling all Budding Gymnasts!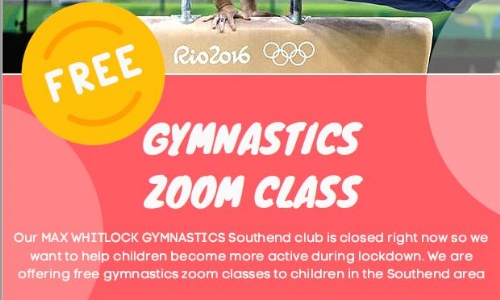 My name is Leah Whitlock and I am the co-owner of Max Whitlock Gymnastics. Max Whitlock Gymnastics was created by Britain's most successful gymnast, Double Olympic champion Max Whitlock MBE and myself Leah Whitlock. Between us we have over 30 years experience in Gymnastics. We want to give back to the community and help children become more active during this time. We understand that children are missing out on exercise and we would like to offer free online Gymnastics zoom sessions in an attempt to combat this issue.
Our classes will be run by our Max Whitlock Gymnastics Southend team leader who is fully DBS checked and also works in a school. She is extremely enthusiastic about this project and getting children active again after seeing how this pandemic has affected so many children. We would like to run these zoom sessions for 4 weeks. Each session will be 30 minutes filled with games, warm-up and stretches, Gymnastics exercises and much more!
Please email office@maxwhitlockgymnastics.co.uk to book your child's place